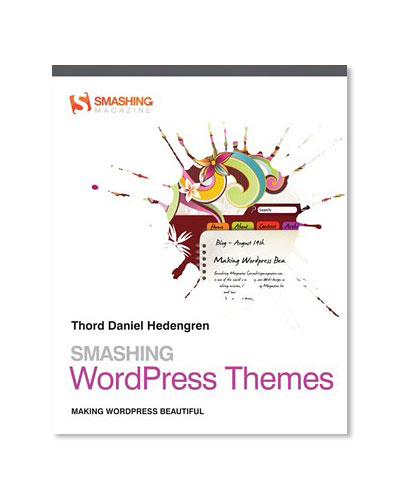 First let me say that Smashing WordPress Themes focuses solely on WordPress theme development, it is for those who have an adequate understanding of CSS and PHP and are looking get under the hood of a WordPress theme. If you are looking to learn about building websites then this book is not for you.
Having been disappointed with a previous offering from Smashing Magazine I had low expectations going into this book – I shouldn't have. This book is great, it really gets down to the nuts and bolts of a WordPress theme. Everything from simple tweaks to the default Twenty-ten theme, to creating your own theme. It even touches on Buddypress.
Not only will you learn how to build themes but it helps you with design, layout and planning issues that other books of this type tend to ignore.
Expect to get your hands dirty but don't be daunted by the technical stuff as the author explains whats going on every step of the way. The explanations are clear and makes things easy to understand.
Again it is for WordPress beginners, if you don't have some understanding of PHP, CSS and HTML then this book will not be rewarding. However if you do and your are looking to delve into WordPress, then it is highly recommended.
"Smashing WordPress Themes: Making WordPress Beautiful"
AUTHOR: Thord Daniel Hedengren
PUBLISHER: John Wiley & Sons
FORMAT: Paperback
SIZE: 23.5 x 18.7 x 2 cm
PAGES: 368
LANGUAGE: English
ISBN: 978-0470669907
PUBLISHED: 11th February 2011
A good book for getting under the hood of WordPress.
4 out of 5 stars
Disclosure: We have received this product free as a part of Amazon Vine™ Programme and you can find this article between our other reviews on Amazon website.
Photos: courtesy of Amazon.co.uk.